Become a Step Stool Chef Taste Buddy
Monthly
On-Demand Cooking Classes
Taught by
Kid Chefs
What Makes Us Different
We are a Community Where Kids are the Chefs and Parents are the Assistant
Taught by Kid Chefs
All classes are taught by our amazing culinary staff of trained kid chefs. Led by our kid CEO and head chef, everything we do is made for kids, by kids.
Kid Independence
We show kids step-by-step how to cook a meal from start to finish with little to no help. We make learning to cook fun and approachable for kids.
Safe Kid Community
We offer a SAFE, PRIVATE social network that allows our Taste Buddies to post, comment, and like while connecting with a global community of kid chefs.
A
TASTE

of What's Included in Our Membership Program
Access to Library of Kid-Led Cooking Classes
Get access to our amazing "kids teaching kids" archive of on-demand classes, skill videos and cooking tips that empower kids to be more independent and confident in the kitchen. New classes released each month.
Step-by-Step Kid Friendly Recipes
Learn easy to follow recipes for kid chefs at all levels using language that kids understand along with cooking hacks that makes it easy for kids to cook more independently. Vegan, Vegetarian and Gluten-Free options available.
Global Kid Chef Community
Communicate with other kid chefs in our safe, private social network. Our community forum allows members to ask questions, share ideas, and get inspired by fellow kid chefs from all of the world.
Hands-on Activities & Challenges
Participate in challenges as well as download hands-on activities and worksheets that let kid chefs practice new skills and expand their culinary knowledge.
Discount on Live Cooking Classes
In addition to our on-demand classes, join "master" live cook-alongs classes taught by a talented kid chef special guest.
Exclusive Deals & Discounts
All Step Stool Chef Taste Buddy members will get 10% discount on all Step Stool Chef products along with a 40% discount for live cook along classes. Plus, get access to private events and exclusive offers.
Take a Sneak Peek at Our Kid-Led Cooking Classes
Cinnamon Puffs
Learn to make this sweet and fluffy treat, perfect for dessert
The Science of Taste
Learn the 5 types of taste, and how to use them for cooking
Lemon Bundt Cakes
Learn to make yummy mini lemon Bundt cakes with a homemade glaze
Pao de Queijo
Learn to make an authentic Afro-Brazilian dish
Get Access to New Lessons Every Month
50% OFF SALE EXTENDED!
Give your favorite kid chef the gift of independence and confidence.
Purchase today and enjoy this EXCLUSIVE offer and lowest price of the year!
Sign-up by DEC 31 for 50% off and a FREE, Live Cooking Class with Chef Julian!
Our Learning Tracks
Our learning tracks are as easy as A-B-C. Our tracks are designed so that kids can learn COOKING in a way that fits THEIR needs, THEIR goals, and THEIR interests. They can stay on one track or explore all of them. Customize the experience however you want!
Advanced Cuisine
Next Level Cooking
Take your cooking to the next level with intermediate to advanced recipes and new cooking techniques
Learn to Make International Dishes
Learn to make dishes from around the world. This course teaches how to make meals from Brazil, Japan, Cameroon, New Zealand, and even a Japanese fusion dish
Led by Kid Chefs
All classes are taught for-kids-by-kids to make the cooking experience easier for young chefs
Baking & Desserts
Make Delicious and Yummy Treats
Bake your favorite treats and desserts including cakes, muffins, homemade ice cream, and international delicacies
Learn Baking Techniques and Vocabulary
Learn new techniques and terms to help you expand your baking skills
Engaging and Fun Lessons
Baking can be tricky, but in this course, we show you how to make it SUPER fun
Immersive Cooking Curriculum for Beginner Chefs
Perfect for younger chefs and beginners who want to gain a strong cooking foundation
Hands-On Activities
Classes include lessons as well as interactive activities and worksheets letting kids use the skills they just learned.
Easy and Fun
When kids are the teachers, they make learning how to cook easy, fun and intuitive
Kid Chefs

Around the World

Love

Our Cooking Classes
CEO, Step Stool Chef and
Head Kid Chef
Chef Julian is a sought after kid chef and entrepreneur that uses cooking as his outlet for creativity and independence as well as to empower other kids' confidence in the kitchen.

As the CEO and Head Kid Chef of the Step Stool Chef, he is responsible for making sure that our cooking lessons, recipes and recommendations are just right for all kids.

Julian has been featured on all major TV networks including NBC, ABC, FOX, and CBS as well as spoken in front of hundreds at several conferences, festivals and culinary events.

Our Students (and Their Parents) Love Us
"My daughter got started cooking using your cooking class. It was the best!! Thank you for helping me bring a love to cooking to my daughter"

"The Step Stool Chef classes have given (our kids) the tools and experience to gain more confidence in the kitchen! Now the kids choose a night to be in charge to pick and cook a meal of their choice with us as their personal Sous Chefs!"
Never miss our news.
Subscribe to our newsletter!
Excited to Have You Join the Step Stool Chef Family
Take a Look at Our
Membership Plans
and Select the Right One for You
Monthly Plan
Full Access to On-Demand Classes

Discounts for Live Cooking Classes
Six Month Plan
Full Access to On-Demand Classes

Discounts for Live Cooking Classes
Annual Plan
Full Access to On-Demand Classes

Discounts for Live Cooking Classes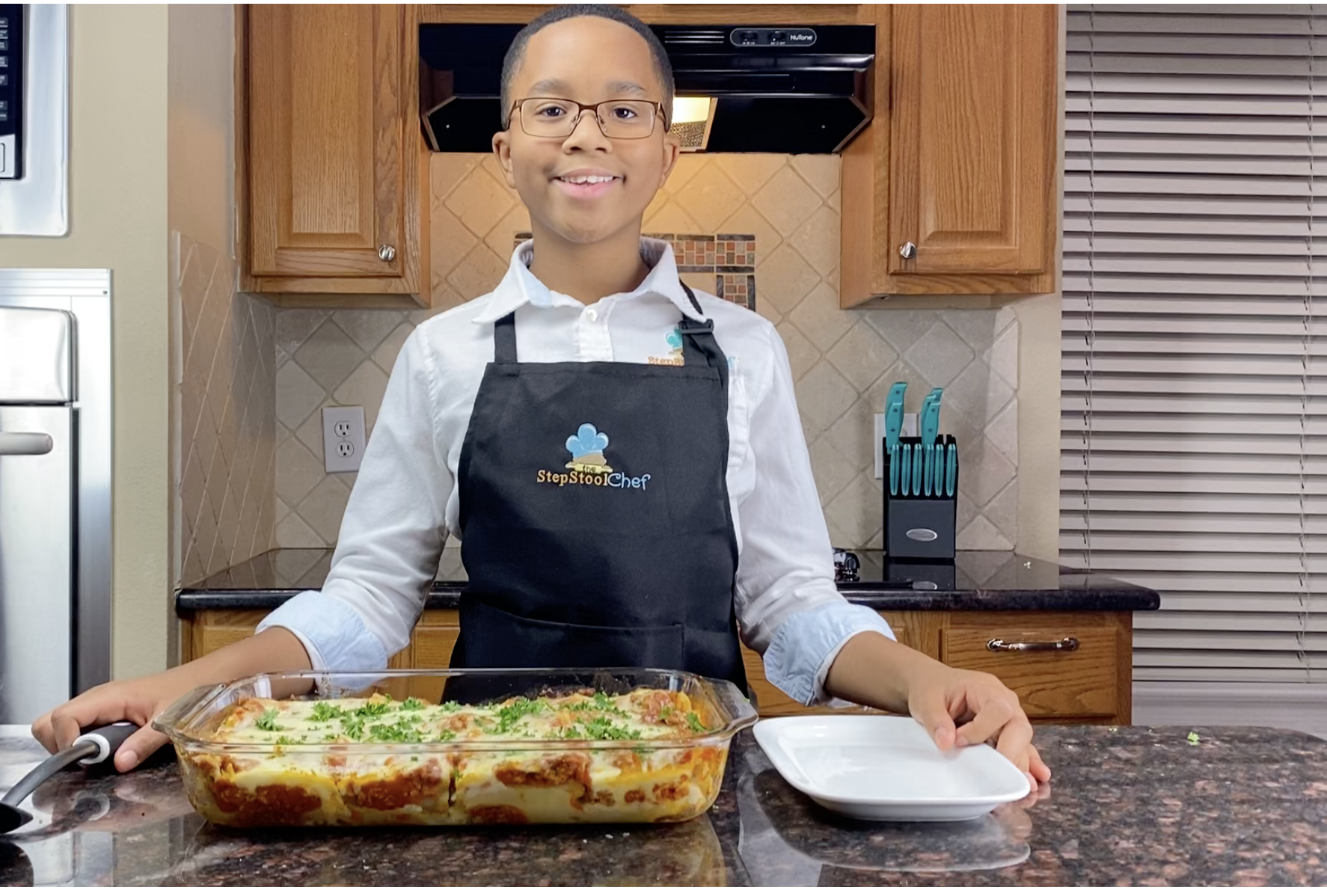 EMPOWER YOUR LITTLE CHEF!
Sign up for our newsletter and get inspired with our latest recipes, tips and more!
Created with